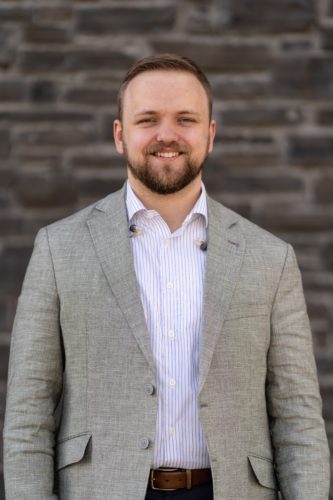 DIRECTOR OF REDEMPTION YOUTH
Email: [email protected]
TESTIMONY
I grew up surrounded by strong Christian faith and practice ever since I was born. Both of my parents having come from Christian homes, they raised my three siblings and I in the faith (I am the second youngest of four). I grew up in Regina, SK, and I accepted Christ at a young age, but I do not think that I had truly come to faith. My "faith" at that point seemed to be more based on doing what was pleasing to my parents and just simply doing what I saw everyone else around me doing. However, my life as a young boy was more characterized by lying and fear than by faith in Christ and obedience to Him. I believed in the truth of the Bible and what it said about God, but it did not affect my heart.
When I was around 9 years old, my family watched the movie The Passion of the Christ. In multiple scenes Satan is shown, and in one particular scene, one of the disciples sees a demon right in front of him. This scene grabbed hold of me and terrified me. I then became filled with fear and experienced night terrors for an extended period of months. My mind was racing with thoughts of Satan, demons, hell, and death. Every night I would be petrified and unable to sleep due to extreme fear. It got to the point where none of my family could sleep either. My parents had tried everything and did not know what else to do but pray; they had tried everything.
One day after church, while my two older siblings were at summer camp, a man came up to our vehicle before we went home and handed my dad a rolled-up piece of fabric, saying, "I believe this is for your son." It was a shirt that said, "Jesus Rules" on it. I wore it to bed that night and was never afraid again. This was a time of serious spiritual warfare in my life, and one that shocked me out of my apathy towards the faith and brought me face-to-face with the reality of spiritual things. It was around this time that my faith became real and I was baptized at the age of 12.
From there, God still had much work to do on me. Through my high school years, I was full of pride in my abilities as an athlete, and God showed me this through riddling my high school sports years with numerous injuries (6 major injuries total through those 4 years). He was drawing me away from an independent self-reliance and towards a dependence on Him.
After high school, I attended Bible college for 3 years, receiving my Bachelor of Biblical Studies from Millar College of the Bible in Pambrun, SK. I then moved to Langley, BC, where I began to work on a Philosophy degree with aspirations to Law School. Through various means, God showed me my lack of passion for Law, and my passion for the Bible and Theology. After only one year of Philosophy, I moved to Cochrane, AB, where I am now working on my Master of Divinity at Canadian Baptist Theological Seminary.
I have a passion for teaching the Word of God and seeing young people come to understand the truth of God's Word and its relevance for every area of life. I am excited to be working with the Youth at Redemption Church and pray that God would be glorified in our pursuit of a deeper knowledge of Him through His revealed Word, encouraging us to spur one another on in love and good works.