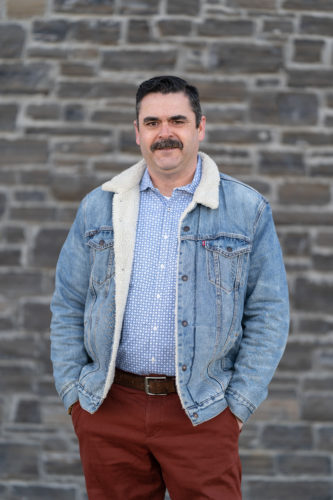 DIRECTOR OF MEN'S MINISTRY
Email: [email protected]
Testimony
I was brought up in a Christian Household where going to church was very important in our lives. The influence of my God fearing committed Christian parents was something I respected but didn't fully understand. At a young age I started to feel that there was something missing in my life and something was working within my heart, but still not fully understanding what it was.  From my parents' influence I knew about God, but not WHO God really was!
When I was 8 years old, I started to realize that it was God working within me gently drawing me to Jesus. I spoke to my parents about it and they confirmed my feeling… that Jesus wanted to be a part of my life, but in order to do that I would have to confess that I'm a sinner and that I need a savior, and they can't do it for me. So at 8 years of age I repented of my sins, and gave my heart to Jesus! And I immediately felt like a huge weight had been lifted.
Over the years, my life path was and is different because of the theme "But God" and how he stepped in and has always been steering the ship even though I may not have realized it at the time, or didn't want to listen. Because I was a sinner saved by grace God constantly was there as my rock I could confess too and rely on. In my teens when I was weak in the flesh…and wanted to get involved with a  girl or go to a party, even though I was not walking a path pleasing to the Lord,  I may not have understood it at the time "but God" was still protecting me, and showing His undeserving grace. 
Then when I was in my late twenties I went through some major back issues that kept me off work and basically paralyzed me on the floor 24/7 in a lot of pain for weeks on end. At the time I didn't think it would ever end and constantly cried out to Jesus for mercy. My wife was pregnant with our first child at the time and was having some difficulties, and neither of us could work… "but God" through His grace and Mercy, came in and provided for us financially and provided a path to surgery for me, and after a few more months of recovery I was able to be fully healed. 
Them about 7 years ago "but God"stepped in again and totally changed our Christian path we were on. As I was going through things and being very challenged to see God's way, and couldn't seem to find it, like he wasn't responding..like He wasn't there..I became very down in my state spiritually, I felt like the Lord had left me… and it was the most awful feeling I have ever felt in my life. It felt like I literally had a hole in my heart, and I was totally empty. "But God" who is so faithful, was always there and at the specific time brought this verse to my mind : Heb 13:5 , I will never leave you nor forsake you.. and it was such a comfort to me and will always be a comfort, not only that verse but there are so many others i could go on and on. Looking back the word of God was always where I could find my strength.  The word of God is so true and to see it in operation in my life is a true testimony to the love and grace and promises that we can all find in the word of God. All Praise be to the one True God! Amen
I currently live in Airdrie and have been married for 28 years, and have two daughters.  We have been part of Redemption for 6 years now and have grown in  our love for the church, and developed some great relationships with many families over these years.  We continue to apply the Lord's direction in our lives, and strive to walk a pathway of Faith pleasing to Him: Hebrews 11:6.  "And without faith it is impossible to please him, for whoever would draw near to God must believe that he exists and that he rewards those who seek him.